To find out more about all of our Covid Safety Protocols, please click here.
Water & Land
The Temple Dome Area is the main pool area and consists of The Hot Pool (105-110°) which is enclosed in a large geodesic dome, featuring stained glass, skylights and two cold plunges. Outside the dome, the large Warm Pool (98-100°) is complemented by a large sundeck and a Dry Sauna. 
Families with children: please see our children's rules for pool hours on our FAQ page here.
The Meditation Pool (98-100°) is outdoors, surrounded by rock tile. In this faux natural pool, you step down rock steps into a serene outdoor hot pool that is ideal for enjoying the star studded skies.
Body acceptance is a key component of Sierra Hot Springs and all of our pools are clothing optional.
We have over 700 acres bordering National Forest land, so biking and hiking possibilities abound.  During winter, nearby cross-country skiing is another attraction, and our location is less than one hour from major Tahoe ski resorts.  Sierra Hot Springs is a non-profit organization maintained and operated by a group of resident workers. Our goal is to provide stewardship for this sacred land.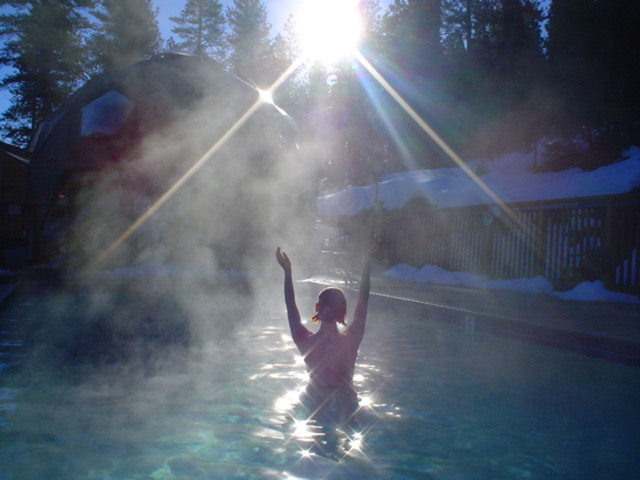 Pool Cleaning Schedule
Due to new Covid protocols for safety, our facility will be closed on Monday and Tuesday for deep cleanings.
The Temple Dome Hot Pool. The Temple Dome Warm Pool and The Meditation Pool are all open from Wednesday to Sunday, and closed along with the rest of the resort for cleaning and safety measures.