From I-80 take exit 188B in Truckee, go North on Hwy 89 approximately 30 minutes to Sierraville. The Globe Hotel is at the intersection of Hwys 89 and 49. To reach the Main Lodge and the Springs, turn right onto Hwy 49, then turn right on Lemon Canyon Road. Turn at the next right onto Campbell Hot Springs Road. Follow this road to the Main Lodge. Please register at the Lodge before using any of the facilities.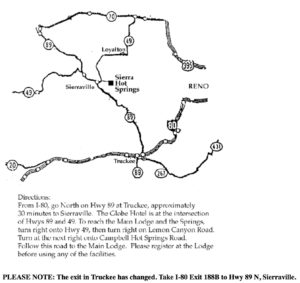 Our street address is 521 Campbell Hot Springs Rd., Sierraville, CA 96126.
Click here for Google Maps Directions.
Click here for MapQuest directions.
Please be aware that some onboard navigation systems suggest routes that are not actually through roads. If you are driving from Truckee on 89 North and your onboard GPS tells you to turn prior to reaching the town of Sierraville, please disregard it.
You can also get here with your small airplane. Info on our local airport can be found at Sierraville Dearwater Airport.