Sierraville is located in the Eastern Sierras, at the south edge of the largest alpine valley in the continental United States, Sierra Valley. Sierraville was one of the earliest communities settled in the Sierra Valley and prospered during the Gold Rush era. Sheriff John Campbell developed the local hot springs, which were known far and wide for their healing properties, to accommodate over 80 overnight guests. Having become the eastern entrance to the northern Sierra Gold Country, the town of Sierraville, was established in the 1850s. Nestled along a small creek that escapes the dense conifer forest, the quaint rustic town is home to about 350 people. Known as the hub of recreation, Sierraville boasts over 130 lakes in a 25-mile radius. The Gold Lake region is one of the most beautiful sights in Northern California, offering many shimmering alpine lakes lying just below the stunning Sierra Buttes. Majestic views and world class hiking trails at the Yuba Pass or Gold Lake region are unforgettable and lie about 20 minutes from town.
The Sierraville business district is limited but surprising for such a small community. In order to increase your experience of Sierraville, we would like to introduce you to the following local businesses that provide services you may require.
The Gilded Drifter and The Drifters Table
The Gilded Drifter Inn is a 6 room boutique hotel in Loyalton, 13 miles from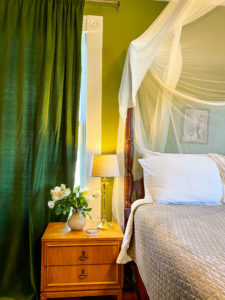 Sierraville. The Inn was built in 1898 on Washoe land and offers unique accommodation for adventurers.  Dog friendly, fast Wifi, large library and shared kitchen.  The Inn is open year round and takes reservations at www.gildeddrifterinn.com.  Combine a stay at The Gilded Drifter with a camping pass for access to the hot springs.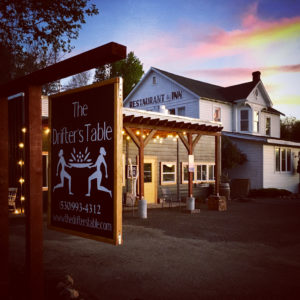 Drifters Table is the onsite seasonal restaurant serving dinner Fri/Sat/Sun from May to January.  Reservations recommended, call (530) 993-4312.
Honey Yard
Sierra Mountains Wild Honey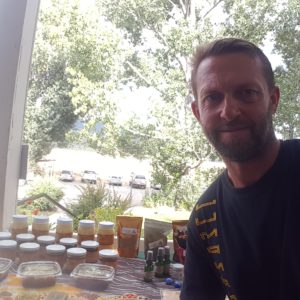 Premium Artisanal Honey from Vlad the Honey Guy
This honey enables you to sample one of nature's purest and sweetest delicacies. Our high quality honey has the perfect mix of sweet flavor and rich organic texture extracted from wild flower nectar. Each bee flew from flower to flower, collecting bit by bit to bring you a product beyond your satisfaction. We proudly guarantee 100% natural honey with no added artificial sweeteners.
300+ bees around Sierra Valley – Graeagle, Calpine, Loyalton & Sierra Hot Springs Garden
Find him on the Front Porch most weekends.
Smithneck Farms Cafe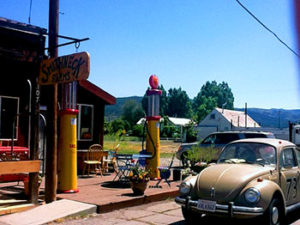 Smithneck Farms strives to provide our customers with the best homemade and homegrown products in the area. All of our coffee is 100% organic and free trade. We are you, Smithneck farms tries to reflect what the community is and wants. The local community provides most of our products. It is our goal to showcase local artists, cooks and craftsman.
Amazing coffee, ice cream, breakfast sandwiches, wraps, pizza and yummy baked goods. Seasonal produce when available and featuring local art for sale
Sierraville Service & Country Store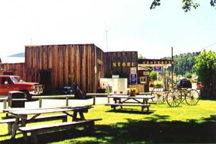 Even if you don't need to fill up your tank on the way from Truckee to Portola, make it a point to stop and visit Sierraville Service and Country Store. Where else would you be able to get a great tasting, fresh cup of coffee, groceries (even organic), pick up a fishing license, and feed a 2000-pound longhorn steer named Lightening? That's right, folks, this is not your ordinary gas station/convenience store. Located on A89 just down the road from Sierra Hot Springs, it has been owned and operated by the same family for over 40 years. This Country Store is all about customer service, but also stocks delicious sandwiches, a full array of liquors, and just about everything else a weary traveler might need. After you've chosen your snack du jour, enjoy it under hundred year old shade trees in the grassy picnic area. But before you continue on your journey, be sure to visit the Funny Farm. Who needs a security system when there are 10 goats, two pot bellied pigs, 15 chickens, two llamas, two donkeys, a mare, a Shetland pony, a few emu's and Lightening the gentle giant on property? By the way, if you do need to fuel up, you'll find the only branded gas for miles and the cleanest, cutest, best smelling restrooms this side of the Mississippi at Sierraville Service and Country Store. Not to mention the friendliest staff in town. Just ask Lightening.
Los Dos Hermanos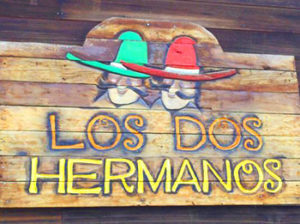 Serving traditional Mexican fare with generous portions.
Open Tues. – Sun. until 8pm
530.994.1058

Links of Interest
Harbin Hot Springs
Tahoe National Forest
Sierraville Dearwater Airport
Sierra County Chamber of Commerce
Jivan's Photography
jivanchildphotography.com