Currently we are not offering Retreat facilitation.
As we recalibrate to opening under the strains of COVID-19, and work to rebuild our staff, adding the load of Retreat Groups will be greater that our beloved Center can bear. We appreciate your understanding as we all navigate these new measures. Once we have determined we are adjusted and staffed well enough to deliver the quality experience we all value, we will update this page and will send out an email blast with an update. This will include dates, rates, and all other pertinent info to schedule and coordinate retreats with us. 
Please send us your contact information using the form below if you would like to receive updates on retreat facilitation.
Again, we appreciate your desire to support our facility and deeply appreciate your understanding regarding the challenges of the current times. We certainly welcome any and all of you to visit us on an individual basis as your schedules may allow.
When we do reopen for Workshops, here's some details on our facility
Sierra Hot Springs' beautiful natural setting makes it the perfect place to take or lead your next workshop.
Or you can design your own personal retreat by taking part in our regularly scheduled events.
Also check out our Events page for upcoming events. All Sierra Hot Springs events are free to guests.
We look forward to you joining us.
Interested in Hosting an Event with Us?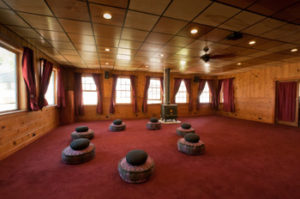 Our workshop space offers a charming, yet simple and neutral atmosphere in which a wide variety of gatherings take place — from small personal growth seminars, to movement work or yoga. Our natural, secluded setting and healing springs create an environment that is relaxing, safe and supportive for people involved in a process of self-discovery.
Workshop participants receive extra value, as their class fees include indoor or outdoor camping space and full use of our facilities, including pools, hiking trails, guest kitchen use, and much more. Your participants are also welcome to take advantage of our excellent bodywork services, restaurant and small store at additional cost.
Although our primary function is to simply rent you the space, we do also provide some promotional support through our web site & displaying promotional materials. Catering services are also available for groups of 10 or more. Our professional cooking staff is always happy to accommodate your group's unique food preferences, requirements, and meal times.  
There is a full sound system compatible with multimedia or computer and a projector with DVD/Bluray or computer compatibility for multimedia presentations.
To receive more information about booking a workshop space, please contact Jennifer Handy
Workshop Office (530) 994.3773 ext. 112
Or e-mail workshops@sierrahotsprings.org
Please send us a message through the form below.
Lead a Workshop
Our resort and retreat center has the facilities to host small groups, events and workshops of all kinds.